PRODUCT產品介紹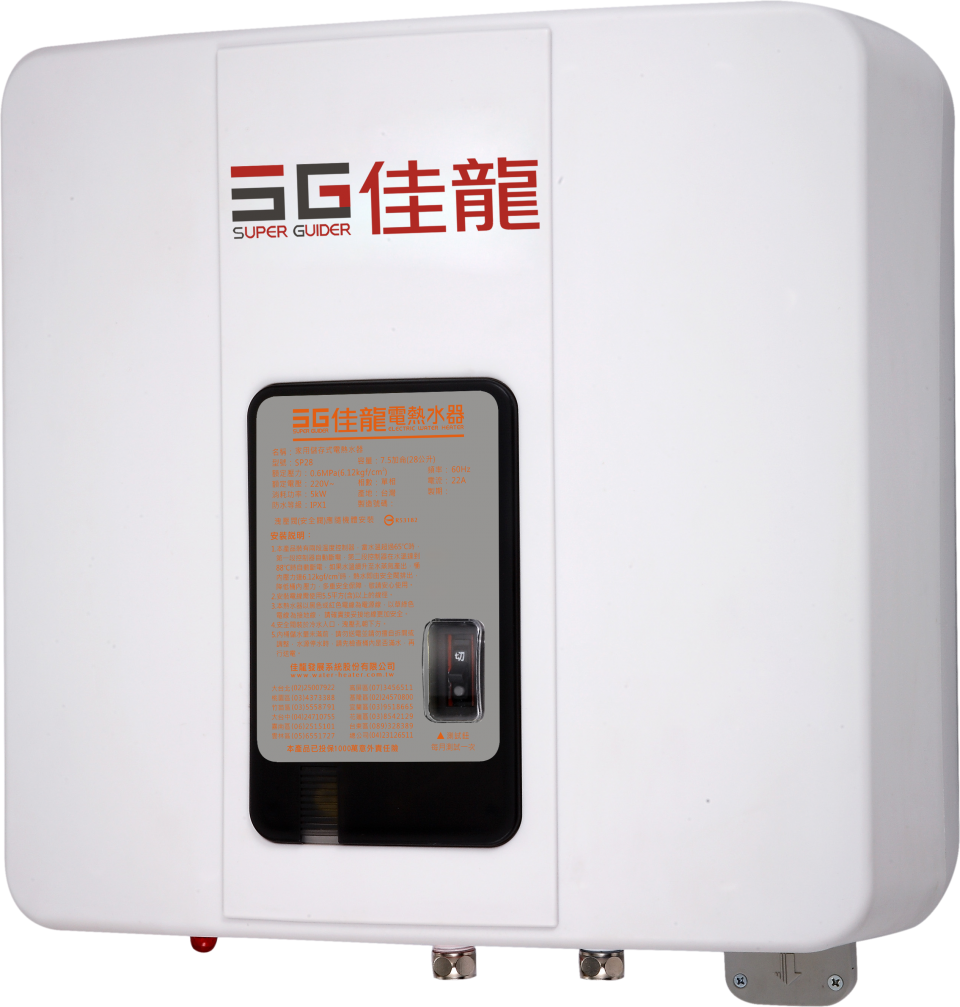 SP28 Mini-Storage
Introduction
SP28 Mini-Storage Series saves space and is available to provide hot water of 40°C up to 20 gallons, which is a perfect choice for small family or dormitory of 1 ~ 3 people.

Light and succinct design.

Newly improved faster heating system.

Standard factory temperature setting at 65°C.

Quality 304 stainless steel in inner design, PP material cover.

Indicating light clearly shows power status: ON-heating or OFF-keep warm.
SP28

MODEL
Capacity
Current
Power
Phase
Inlet & Outlet
Connection
Time to increase
by 25°C
No. of
people
Dimensions
SP28
7.5 gallons (28 liters)
22A
5 kW
Single
1/2
15 mins
1~3
45x45x35 cm

Installation – Mini Storage Electric Water Heater

Install as close to faucet as possible to prevent heat lost in pipe.
Ensuring the tripod or wall-mounted hook is tight when installing.

Water Connection

Connect safety valve to cold water inlet. Connect pressure releasing pipeon pressure releasing hole of the safety valve can avoid danger cause by pressure releasing.
Note that the pressure releasing hole should never be blocked.
Keep the cold water inlet faucet open, it is normal if safety valve drips during heating.
Inlet water pressure is recommended to remain under 1kgf / cm². However, highly recommended to install pressure decreasing valve when pressure exceed 2kgf / cm².
Inlet and outlet connection gauge should be the same according to the product specification.
Install safety valve is necessary ensuring the safety.

Power Connection

Power cord is either black or red. Make sure to connect the green earth cord correctly.
Note that the blue dot inlet pipe indicates cold water inlet pipe whereas red dot indicates hot water outlet, make sure installation is correct.

Reminder – Mini-Storage SP28

All electrical installation should be carried out by a qualified person. Make sure the operation of Power and water supply before contact the distributor.
Electrical Regulation Replacement
Please switch off the power and take off the terminal of the electrical regulation and all wires before replacing the electrical regulation. Ensuring the screw and nut are tighten after replacement and wires arrangement.
Heating element function
Water (faucet) should be leaked off (switch-off) before replacement of heating element function. Once installation completes, turn on both hot water faucet and cold water faucet then open the clean access.
Heating element function is able to be taken apart by wrench. Ensuring the rubber washer is well fixed preventing the water heater from leaking before re-arranging the heating element function.
Scheduled Maintenance
Heating system should be cleaned once two year ensuring the heating quality which is highly recommend.
Scheduled cleaning the exterior of water heater to keep intact.
1 year warranty for the product.
Overheat Preventive Device will automatically interrupt by abnormal overheating.
Attention: Turn off the power immediately while power indicator not illuminating and contact customer service.